Overview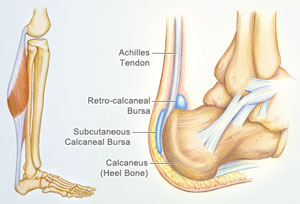 The plantar fascia is a broad fan shaped strap of strong body tissue which stretches from the bottom of the heel bone to the ball of the foot. It helps to hold the foot
bones
and joints in place. When it is over stressed (over stretched) typical symptoms occur. The heels hurt most of all first thing in the morning or after a period of rest. The heels are also very sore after standing for a long time.
Causes
There is no one cause of heel pain. Whole text books have been written on Disorders of the Heel. Some of the types of problems that can be seen in the heel include Heel spurs, these are small
bony
spurs that often develop on the bottom of the heel. They do not really cause any problems. It is only mentioned here as it is a common myth that they are a problem - almost always the pain associated with heel spurs is really plantar fasciitis. Plantar fasciitis is the most common cause of heel pain and is due to a strain of the long ligament along the bottom of the foot. The most symptom is pain when getting out of bed first thing in the morning ('post-static dyskinesia') A number of disease processes can uncommonly cause heel pain, such as rheumatoid arthritis, ankylosing spondylitis and gout. Stress fractures, which is an abnormal reaction of bone to stress can occur in those that are very active (eg athletes) or have weaker
bones
(eg osteoporosis) Pain at the back of the heel could be due to a number of problems, there could be a bursitis at the back of the heel bone (sometimes called 'Haglund's) there could be problems with the insertion of the achilles tendon, such as tendonitis or calcification. A 'stone' bruise is sometimes considered to be a cause of heel pain, its is simply a bruise of the bone. Another cause of heel pain is problems in the calf muscles that refer pain to the heel (myofascial trigger points) or pain referred from the lower back via the nerves from the back to the heel. Heel pain in children is usually due to severs disease or calcaneal apophysitis.
Symptoms
Initially, this pain may only be present when first standing up after sleeping or sitting. As you walk around, the muscle and tendon loosen and the pain goes away. As this problem progresses, the pain can be present with all standing and walking. You may notice a knot or bump on the back of the heel. Swelling may develop. In some cases, pressure from the back of the shoe causes pain.
Diagnosis
Your doctor will perform a physical exam and ask questions about your medical
history
and symptoms, such as have you had this type of heel pain before? When did your pain begin? Do you have pain upon your first steps in the morning or after your first steps after rest? Is the pain dull and aching or
sharp
and stabbing? Is it worse after exercise? Is it worse when standing? Did you fall or twist your ankle recently? Are you a runner? If so, how far and how often do you run? Do you walk or stand for long periods of time? What kind of shoes do you wear? Do you have any other symptoms? Your doctor may order a foot
x-ray
. You may need to see a physical therapist to learn exercises to stretch and strengthen your foot. Your doctor may recommend a night splint to help stretch your foot. Surgery may be recommended in some cases.
Non Surgical Treatment
Anti-inflammatory medication. Heel stretching exercise. Ice application to painful area - twice a day or more, for 10 - 15 minutes. Rest. Supportive, well-fitting, padded shoes. Heel cup, felt pads or orthotics. Night splints - stretches injured fascia and allows healing. Basic treatment. First thing in the morning, before getting out of bed -- massage the bottom of the affected foot or feet for at least five minutes. Ensure that the plantar is stretched and warmed up so that overnight healing remains intact. Before stepping out of bed, be sure that you have soft, padded, supportive shoes or slippers to wear, especially if your flooring is hard, tile or uncarpeted flooring.
Surgical Treatment
If treatment hasn't worked and you still have painful symptoms after a year, your GP may refer you to either an orthopaedic surgeon, a surgeon who specialises in surgery that involves
bones
, muscles and joints or a podiatric surgeon, a podiatrist who specialises in foot surgery. Surgery is sometimes recommended for professional athletes and other sportspeople whose heel pain is adversely affecting their career. Plantar release surgery is the most widely used type of surgery for heel pain. The surgeon will cut the fascia to release it from your heel bone and reduce the tension in your plantar fascia. This should reduce any inflammation and relieve your painful symptoms. Surgery can be performed either as open surgery, where the section of the plantar fascia is released by making a cut into your heel or endoscopic or minimal incision surgery - where a smaller incision is made and special instruments are inserted through the incision to gain
access
to the plantar fascia. Endoscopic or minimal incision surgery has a quicker recovery time, so you will be able to walk normally much sooner (almost immediately), compared with two to three weeks for open surgery. A disadvantage of endoscopic surgery is that it requires both a specially trained surgical team and specialised equipment, so you may have to wait longer for treatment than if you were to choose open surgery. Endoscopic surgery also carries a higher risk of damaging nearby nerves, which could result in symptoms such as numbness, tingling or some loss of movement in your foot. As with all surgery, plantar release carries the risk of causing complications such as infection, nerve damage and a worsening of your symptoms after surgery (although this is rare). You should discuss the advantages and disadvantages of both techniques with your surgical team.
heel pain pads
Prevention
Make sure you wear appropriate supportive shoes. Don't over-train in sports. Make sure you warm up, cool down and undertake an exercise regime that helps maintain flexibility. Manage your weight, obesity is a factor in causing plantar fasciitis. Avoid walking and running on hard surfaces if you are prone to pain. You should follow the recognized management protocol "RICED" rest, ice, compression, elevation and diagnosis. Rest, keep off the injured ankle as much as possible. Ice, applied for 20 minutes at a time every hour as long as swelling persists. Compression, support the ankle and foot with a firmly (not tightly) wrapped elastic
bandage
. Elevation, keep foot above heart level to minimize bruising and swelling. Diagnosis. Consult a medical professional (such as a Podiatrist or doctor) especially if you are worried about the injury, or if the pain or swelling gets worse. If the pain or swelling has not gone down significantly within 48 hours, also seek treatment. An accurate diagnosis is essential for proper rehabilitation of moderate to severe injuries.